Anchor
2023Come!BikeDay Series of Event Starts, Showcasing the Charms of Sun Moon Lake
Introduce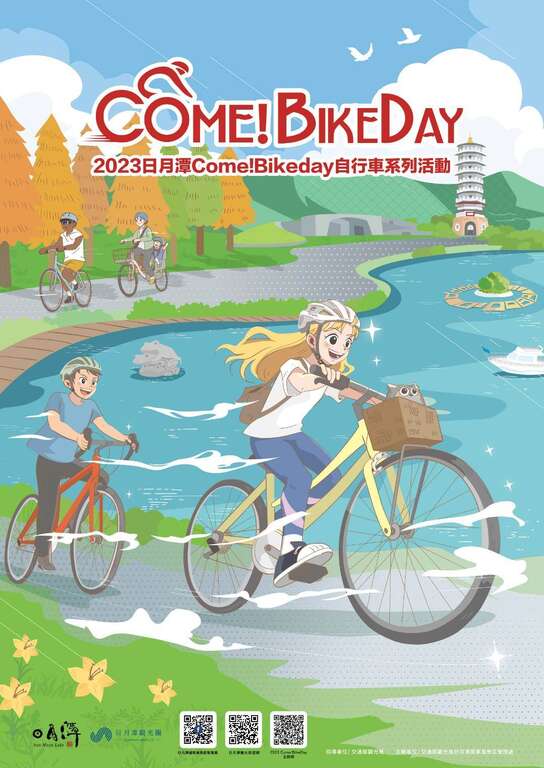 The annual Sun Moon Lake bicycle event, 2023Come!BikeDay series of events officially launched in July and Sun Moon Lake National Scenic Area Administration has planned a series of activities. This year, the highly acclaimed Jiji Railway Town event features and visitors can drop by Shuili and Jiji while enjoying Sun Moon Lake and explore their natural beauty.
The first activity unveiled was "Fun Riding Around Sun Moon Lake" from July to October. The administration selected a number of certified photo scenic spots on three classic routes -- the Sun Moon Lake Shuishe section route, around the lake route and the Jiji town route. After taking a selfie with the certification point and completing the certification on Line, participants get an exclusive Sun Moon Lake Fun Riding Certificate and can use it to redeem an exquisite giveaway at a partner store.
The event focus then moves onto activities in September and October -- "Jiji Railway Town - Cycling Tours", and "2023Come!BikeDay Theme Day" in Xiangshan, Sun Moon Lake. "Jiji Railway Town - Cycling Tour" will be launched on September 16 in the form of a laid back cycling activity. Participants can follow professional guides through Shuili and Jiji, exploring beautiful scenic spots while on a casual bike stroll. The grand launch of the much-anticipated "2023Come!BikeDay Theme Day" will take place on October 14. In addition to the challenge of cycling around the lake, this year adds a new boat ride challenge. Participants will ride around half of Sun Moon Lake and then take a shuttle boat to return to the starting point, where they can enjoy both sport and a lake tour, experiencing a brand new way of having fun cycling. At the same time, there is also a popular children's scooter race, allowing kids to show off their skills and courage. The joint adult-children competition ensures they have to work together for victory. In addition, there will be guided rides, challenge activities and a lively market on site, creating a joyous celebratory atmosphere so everyone can experience first-hand the relaxed LOHAS atmosphere of Sun Moon Lake.
Sun Moon Lake National Scenic Area Administration Director Jian Qingfa says that this year's bicycle activities continue the spirit of Everyday is Come!BikeDay, and present visitors with a wider range of options to choose from. Activity information is available on the bicycle activities website. Those interested in taking part in the 2023Come!BikeDay Theme Day - Bike Challenge" have to register on-site on the day of the activity, though other activities can be pre-booked online. Register as soon as possible because only a limited number of places are available and it is first come first served. Both senior cyclists and novice bike handlers can find suitable options to meet their passions, and experience the unique charm of cycling. Everyone is welcome to come to Sun Moon Lake to ride a bike, enjoy the beautiful scenery and find endless joy in the natural scenery while creating precious memories.
For more event details, please visit the official website of the 2023Come!BikeDay evens website

Or visit the Sun Moon Lake National Scenic Area Administration Facebook fan page for more information about the latest event.