Current time is Fri, 29 Sep 2023
17:50:32 GMT+8
Explore the best of Sun Moon Lake!
Sun Moon Lake is a well-known attraction at home and abroad. Bike riding around the beautiful lake and sampling delicious food made by the indigenous people are unique experiences here.
Sun Moon Lake is a beautiful alpine lake located in the middle of Taiwan.
Enjoy the most special experience in the water, land and air.
Sun Moon Lake National Scenic Area has a rich indigenous culture, and excellent agricultural products. Come here to enjoy bike riding, cable car and boat rides, or take the little train at Jiji and experience the nostalgic Taiwan railway. It will leave you with the most wonderful and lasting memory of your trip!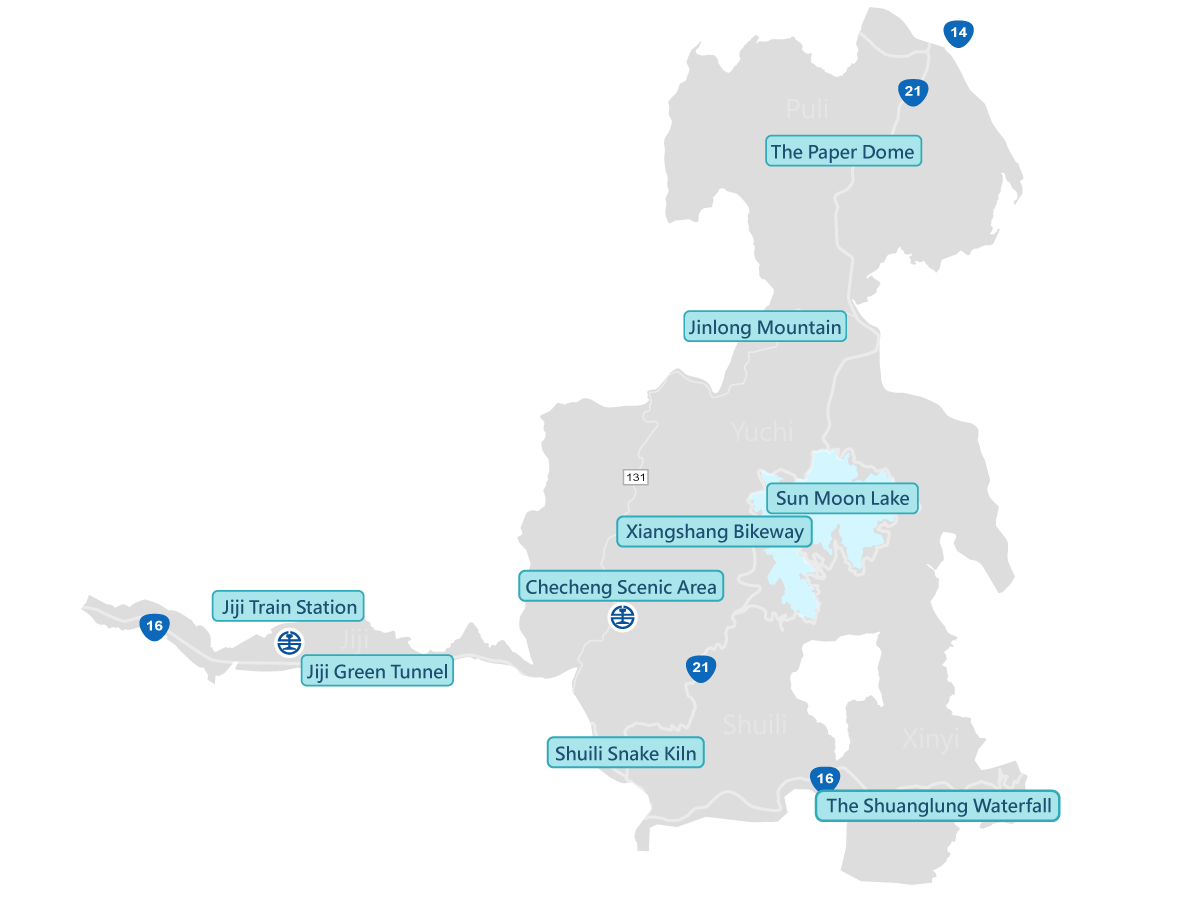 Sun Moon Lake
Itinerary recommendation
Eight New Wonders of Sun Moon Lake
In 2018, on the Internet, we invited people to select the Eight New Wonders of Sun Moon Lake. These tourist attractions are all suitable for checking in on Facebook and taking photos. They are also ideal for those wanting to appreciate the lake deeply. The eight new wonders are:Nine frogs under the setting Sun: Nine Frogs on the LakeA salmon-color lake: Cherry Blossom Lake at Formosan Aboriginal Culture VillageA leisurely bicycle ride: Shuishang Bicycle PathFacing mountains and the Moon: Xiangshan Visitor CenterSunrise in Shuishe: Shuishe DamA smiling valley: Dazhu LakeA big bright pearl in the mountains: Lalu IslandLove at Sun Moon Lake: Yongjie Tongxin BridgeWe recommend exploring Sun Moon Lake slowly.
Instagram

@sunmoonlaketw

Check out what other netizens experience at Sun Moon Lake, and share your most special memory on your trip with us here.
Start planning your Sun Moon Lake trip.