Anchor
The Alpine Lake with Serene Beauty and Tranquility

Name: The Alpine Lake with Serene Beauty and Tranquility
Press: Sun Moon Lake National Scenic Area Administration
Introduce:
---
In Search of Serene Fantasy Land
Sun Moon Lake is the largest and most beautiful alpine lake in Taiwan.Its beauty is like a strand of bright pearls shimmering in the midst of Taiwan.The mist-laden water and the constant changes of thick and dispersing clouds and fog create a mood of a fantasy fairyland. Depending on the seasons and time of day, perhaps the scenes might remind you of a sketch, a colorful watercolor painting, or a Chinese landscape painting. Visitors are often enthralled by the refreshingly beautiful and elegant landscapes here.
The beauty of the lake, from dawn to dusk and from season to season, exudes an aura of enchantment regardless of whether it is bathed in sunlight and blue sky or shrouded in mist.Consequently, visitors find themselves in the amazement of stunning landscape accompanied by the chirping sounds of birds and the delightful fragrance of flowers.
In the early morning, a thin veil of mist creating a sense of hazy dreaminess covers the surface of the lake.When the sun rises over the mountains, the obscuring mist lifts slowly to reveal the contour of the lake, reflecting images of surrounding mountains as birds chirp and glide gracefully. At dusk,the colors of the setting sun are like a sprinkling of golden dust, transforming it into a romantic paradise.As the night falls, the flickering lights of fishing boats, shining stars and dancing fireflies reflect their shimmer on the rippling lake as cool evening breezes waft in.Such an image has been described as a mischievous fairy illuminating the lake with her lantern.
---
According to legend, the Thao people discovered this beautiful wonderland while chasing a white deer. You are able to enjoy the pestle music of the Thao tribe echoing through this magnificent scenery.
According to a legend, a long time ago a group of Thao hunters chased a rare and beautiful white deer for days, going up river valleys and across mountain ridges. Finally they entered the mountains of a place called Shuishalian and settled the entire tribe in this beautiful place.
During the Qing Dynasty, the original Thao settlers were joined by large numbers of Han Chinese and Pingpu indigenous people. Thanks to Sun Moon Lake's rich ecology, Thao people started to fish, hunt, and cultivate agricultural products in this beautiful place and also further developed fishing skills.
In spite of a deep assimilation with Han Chinese,Thao tribe still maintains its traditional culture. Their 'spirit basket', in which the articles of clothing belonging to the ancestors are kept and worshipped, still stands at the heart of Thao religious beliefs. All Thao religious rituals and ceremonies include prayers to the ancestors.
Pestle music is performed by a number of people wielding wooden pestles of varying lengths, involving the rhythmic pounding of pestles against stone slabs. Pestle music has been an important feature of Thao culture at Sun Moon Lake. The echoing pestle pounding and dancing have become the most well-known attraction at Sun Moon Lake.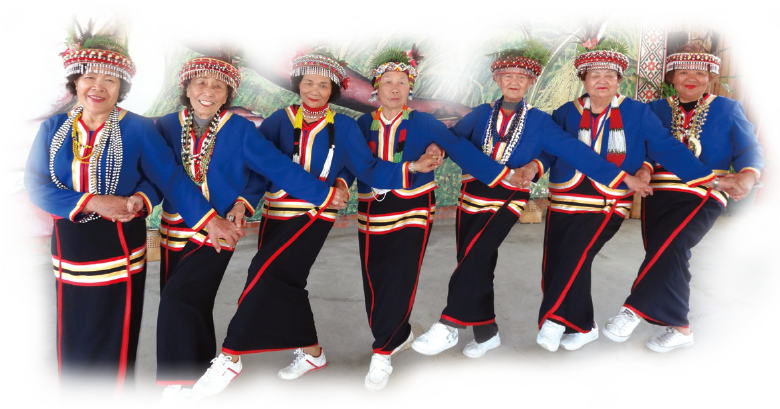 Pasibutbut, eight-part polyphony, is the ancient Bunun tribe tradition of polyphonic choral singing. They sing pasibutbut with their unique eight –part harmony, and pray for a plentiful harvest of millet. It has also been called the " sound of nature".
Living on both sides of the Central Mountain Range, Bunun people were known to be one of the 'high-mountain tribes.' They have five distinct sub-tribes: the Takbunuaz, the Takituduh, the Takibaka, the Takivatan, and the lsbukun.The Takibaka tribe mainly lives in the Tannan Village in Sinyi while the Takibaka,Takbunuaz, Takivatan tribes mostly live in Dili and Shuanglong.
Bunun people's agricultural cultivation and hunting time have to be aligned with the lunar calendar. According to the Bunun tribe, the concept of months and years is divided by the growing period of the millet. Being the most important crop for the Bunun, there are also many millet-related events or rituals annually.There are pictographs on the calendar to symbolize different rituals, including 'lgbinagan','Malahodaigian',and 'Andagaan.' 'Pasibutbut' is the well-known 'eight-part harmony',sung by the Bunun people to pray for a plentiful harvest of millet. Bunun people believe that the better they sing, the more they can get from the harvest. Being another important ceremony in Bunun culture, the ear-shooting festival is held to teach boys marksmanship and hunting skills.
◎Please remain quiet while the ceremony is held to respect taboos and regulations of different tribes.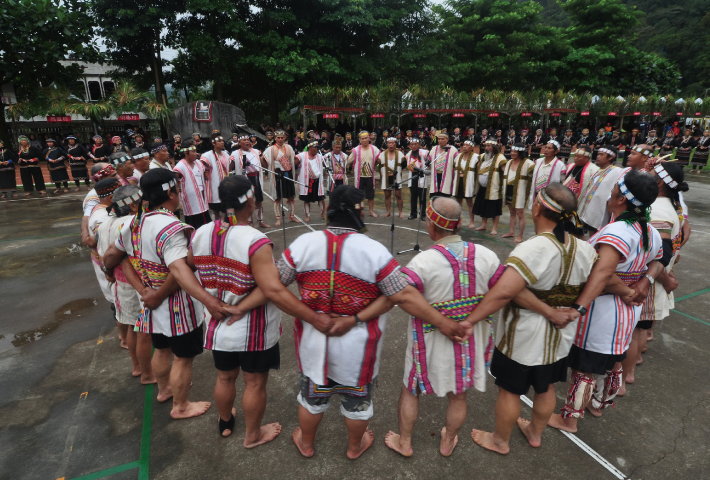 ---
Give yourself a day off to relax and enjoy a fascinating ecological tour.
With enriched ecological resources, Sun Moon Lake provides visitors different charms at all seasons. Every year in early spring around February, Sun Moon Lake is embraced by cherry blossoms in full bloom. The Cherry Blossom Festival is celebrated with a series of cherry-related events, such as an evening cherry-viewing activity in Formosan Aboriginal Culture Village and a tea party held by National Chi Nan University. In recent years, Formosan Aboriginal Culture Village also have been holding weddings during the cherry blossom blooming season, creating a romantic atmosphere surrounded by rich ecological resources. When it comes to summer, twinkles of fluorescent lights can be seen at night. Visitors are highly recommended to take advantage of the firefly season. The 'Valley Firefly Appreciation' activity is held every year with a variety of ecological tours in many areas, including Tao-Mi village in Puli Township, Shuishe area in Sun Moon Lake, and Tan-nan area in Sinyi Township. Midsummer is the ideal season to linger on for colorful butterflies. Tao-Mi village and Bamboo Rock Garden Ecological Research both provide a series of butterfly-viewing packages led by professional tour guides to experience the secret and pleasure of nature activities here.
Atunas Taiwan Outdoor Center
Atunas Taiwan Outdoor Center is located at the former Guangming Elementary School. Under the management of Atunas Outdoor & Sports Foundation, this certified environmental education center integrates the rich cultural and ecological resources at Sun Moon Lake, and provides excellent courses in environmental education and experience, and has a wonderful exhibition of Taiwan mountaineering history and cultural relics.
Tel:(+886-49)286-1723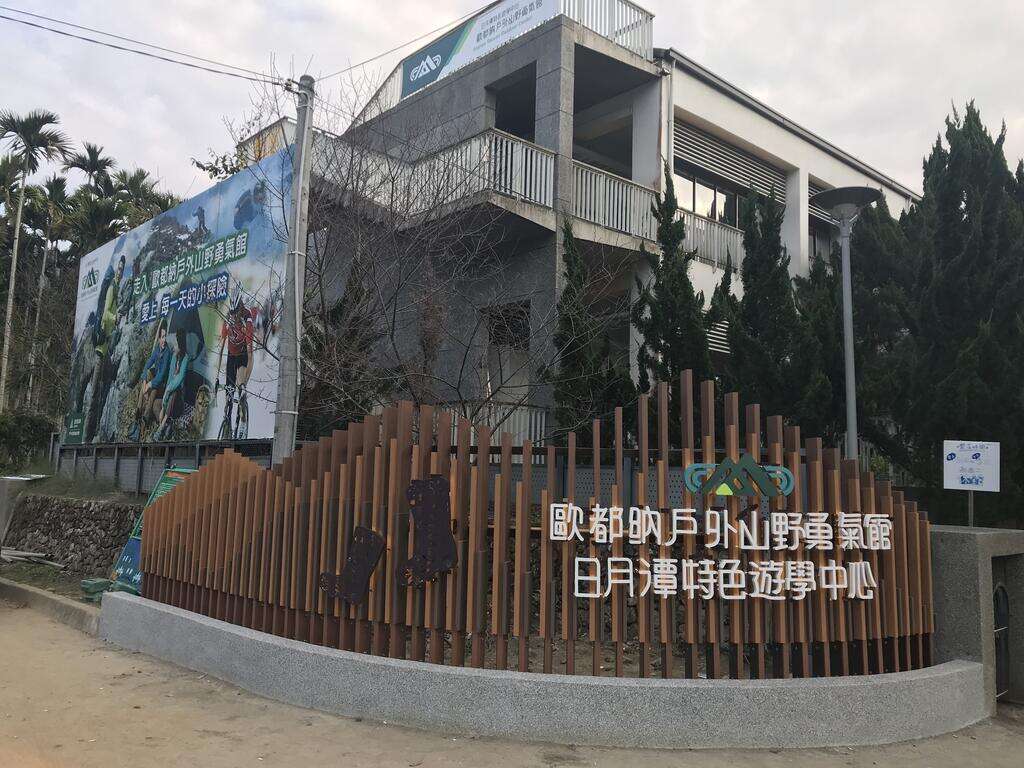 Bamboo Rock Garden Ecological Research Center in Sun Moon Lake
The Bamboo Rock Garden Ecological Research Center, a significant ecological and educational park, provides ecological tours, environmental education, and training activities based on a number of themes, such as a wonderland of bamboo and stone, butterfly ecology, and DIY activities. There are random package tours and DIY activities at all seasons. Apart from these activities, visitors can also find secluded accommodation and a comfortable place for activities here.
Tel:(+886-49)285-6679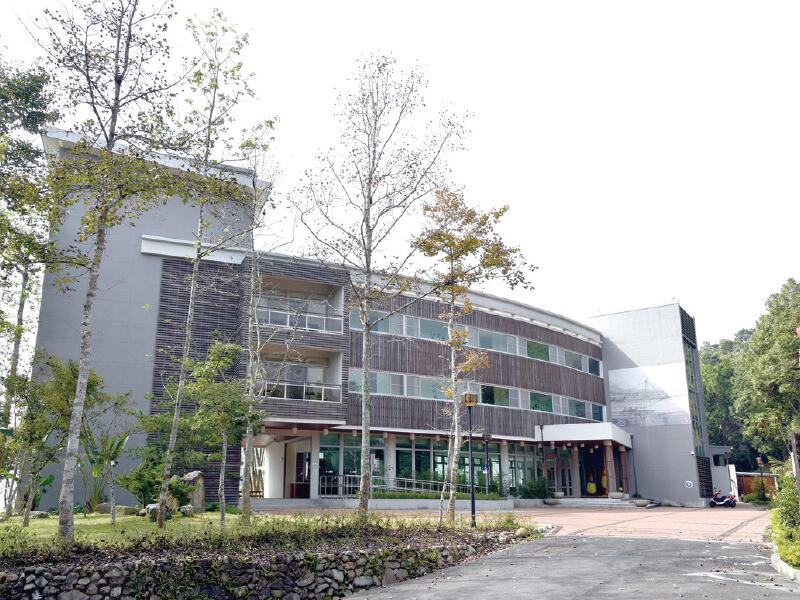 Immerse yourself in the industrial culture
---
Besides the impression of a Chinese landscape painting with mist-laden water and clearly defined levels of mountains, the tourism industry here is also enhanced by numerous growths of different industries.
With similar latitude and growing conditions to India's Assam tea farms, Yuchi has become the main base for the cultivation of Assam tea during the period of Japanese colonization. Taiwan Tea No.21, Taiwan Tea No.8, and Taiwan Tea No.18 are particularly favored.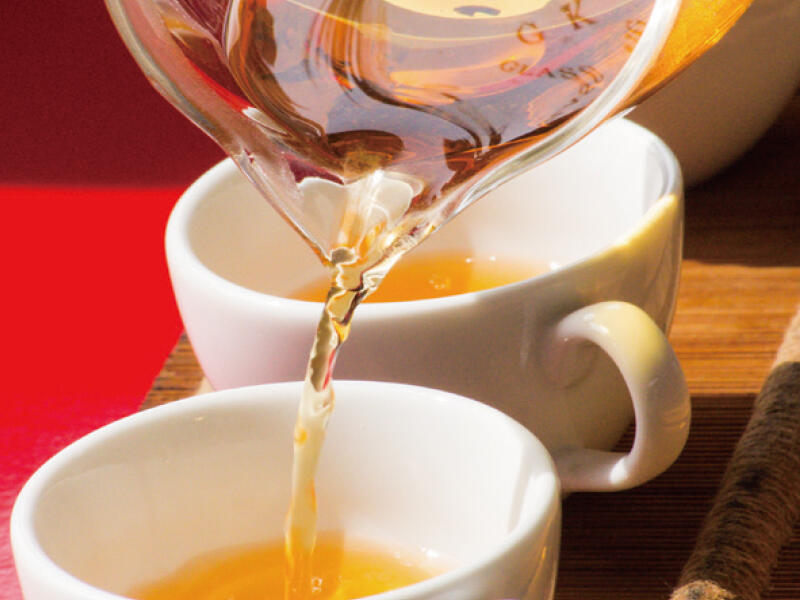 Checheng used to be the main place for timber output. From the tour of Checheng Logging Exhibition Hall, established by Checheng Timber Factory, visitors can witness the historical traces of the timber industry. A timber-storing pool is turned into an ecological pool and the shopping center sells a variety of products made with the theme of timber.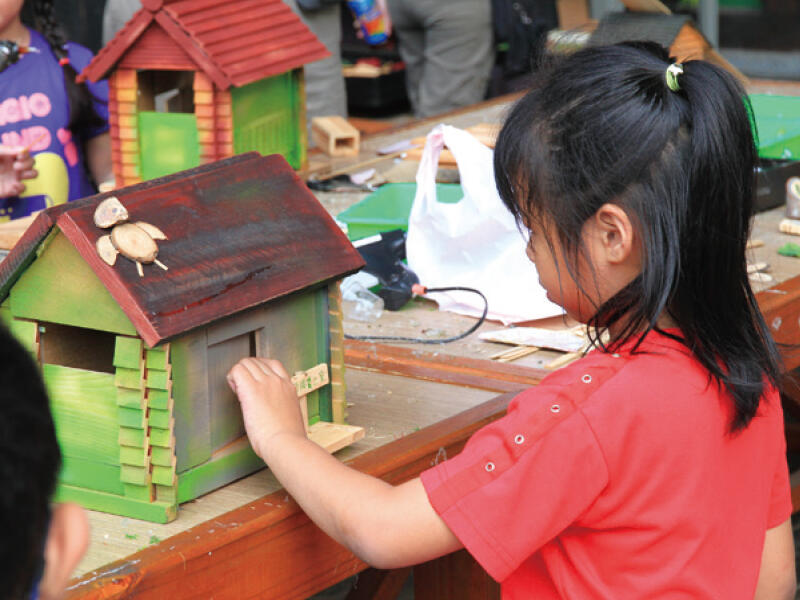 Yuchi, Jiji, and Shuili are well- known for their pottery and for the high-quality clay available in early years. Shuili's Snake Kiln, Jiji's Muzih Kiln, Tianxing Kiln, Sheshui Kiln, and Cinshou Kiln are turned into leisure pottery theme parks providing pottery tours and pottery DIY activities.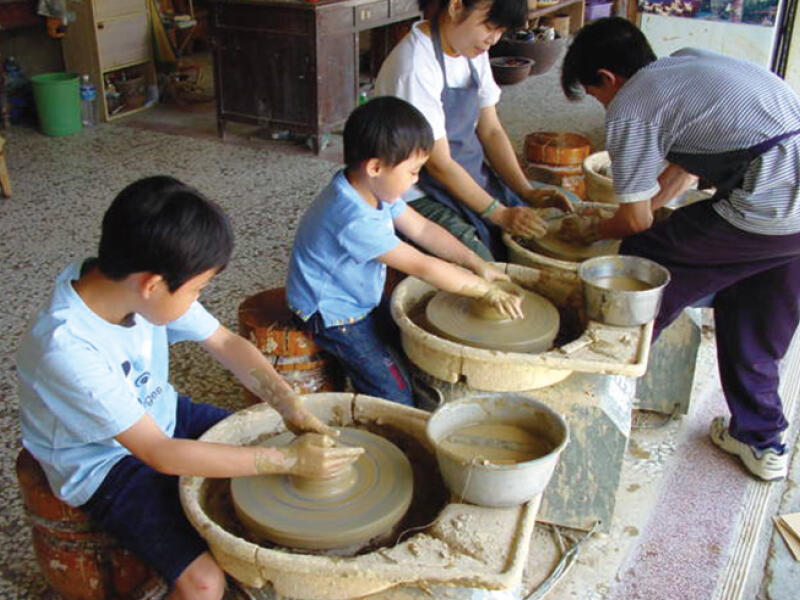 Surrounded by Puli the basin group with its abundant water resources, the particular natural conditions in the Sun Moon Lake area have given it numerous unique local products, such as water oats, mushrooms, passion fruits, roses, and orchids.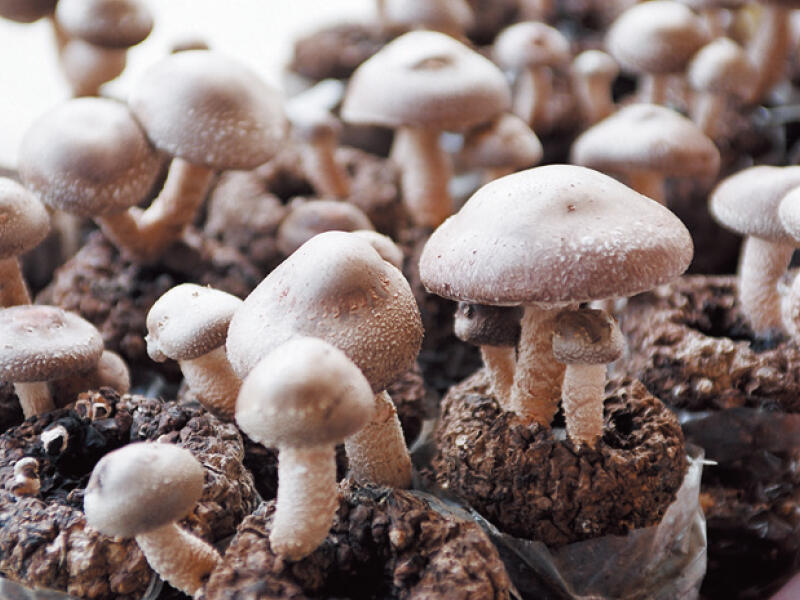 Owls are considered sacred birds to the Thao aboriginal people. Visitors can find a lot of handicrafts of owls in souvenir shops in the Sun Moon Lake area. Moreover, you can also find the Bunun's rattan products and woven clothes for hunting and daily use. The stone sculpture and wood sculpture both apply the natural materials obtained from Zhuoshui River.
Happy Gathering Moment
---
The beauty of Sun Moon Lake, from dawn to dusk and from spring and summer to autumn and winter, is created by the combination of mountain and water scenery surrounded by the mist. Are you ready to enjoy this fantastic journey?
The event 'New Dawn at Sun Moon Lake- First Dawn from Jinlong Mountain' announces the arrival of the New Year. At night, there is music played with romantic sparkling stars in the sky. Visitors all leave before dawn in order to witness the magnificent moment when the sun comes out. During the cherry blossom season in February, visitors are invited to take part in the Sun Moon Lake Marathon to experience being surrounded by breath-taking landscape and colorful dancing cherry in the air. When it comes to fall in September, Sun Moon Lake is the perfect place for visitors to join the Annual Sun Moon Lake Swimming Carnival. The length of this swimming route from Chaowu Pier to Yidashao Pier is around three kilometers. There are around 25,000 people who sign up for this activity every year. Later in the year, the Sun Moon Lake International Fireworks Festival held from October to November invites many domestic and foreign music performers to present stunning musical performances.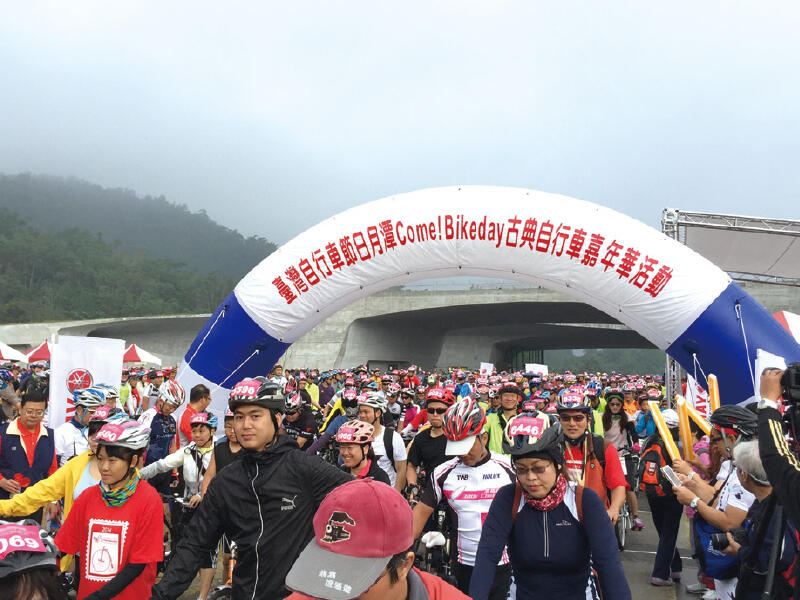 After the International Fireworks Festival, Sun Moon Lake's annual grand event- Sun Moon Lake Come! Bikeday Classic Ride also provides every visitor a must-not-miss chance to experience the marvelous scenery along Sun Moon Lake through riding the bike. This cycling tour also offers other activities which combine local tours and aerobatic demonstration. On New Year's Eve there will be New Year celebration activities at Shuishe Pier and Ita Thao Pier.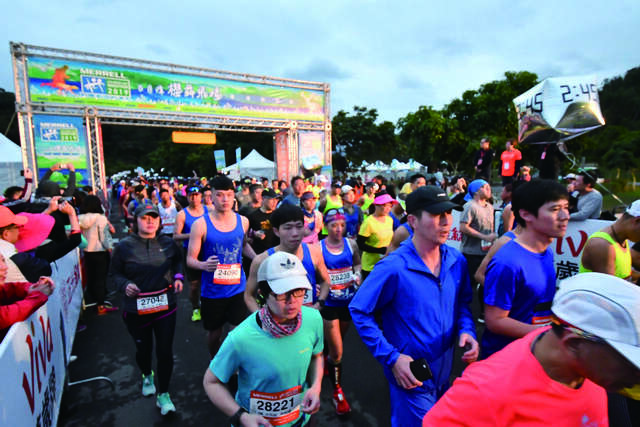 Enjoy multiple thematic tours
---
The aura at Sun Moon Lake attracts eastern and western religious practitioners and spiritual followers to gather here. It is a peaceful and comforting place to be. So if you feel stressed from your busy life, why not pay a visit to one of these organizations to pray and meditate. At the same time, you may enjoy learning about different religions and admiring the beautiful architecture.
Wenwu Temple
is devoted to the God of Literature, the God of War, and Confucius.
Xuanzang Temple
is devoted to worshipping the remains of the Buddhist monk Xuanzang and the golden Sakyamuni Buddha.
Xuanguang Temple
is devoted to worshipping of the relics of the Buddhist monk Xuanzang.
Matchmaker Temple
was moved from Lalu Island to Longfeng Temple. You can come here to pray for love.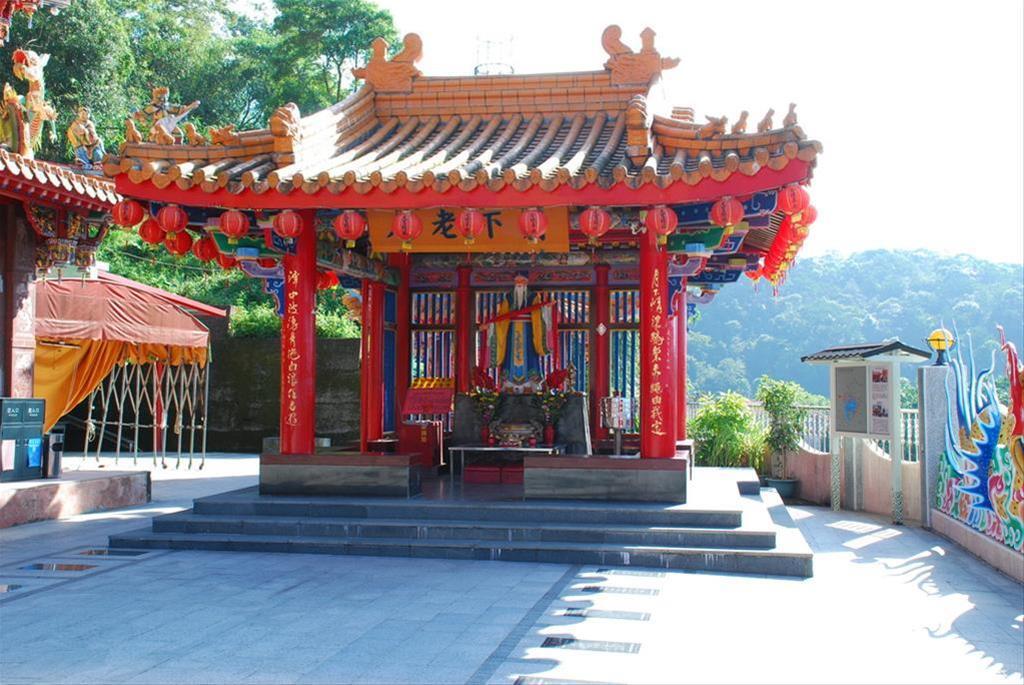 Getting married on this wonderland
Sun Moon Lake is known as a 'honeymoon lake' and a 'lovers lake.' It's common to see people coming here for their wedding photos. Good locations for taking wedding photos are: Xiangshan Administration, Lakeside Trail, Shuishe Pier, Matchmaker Temple in Longfeng Temple, and Maolan Mountain Trail Shuishe Dam, Christian Church, Meihe Park, Formosan Aboriginal Culture Village, and Zhushi Park (Bamboo and Stone park).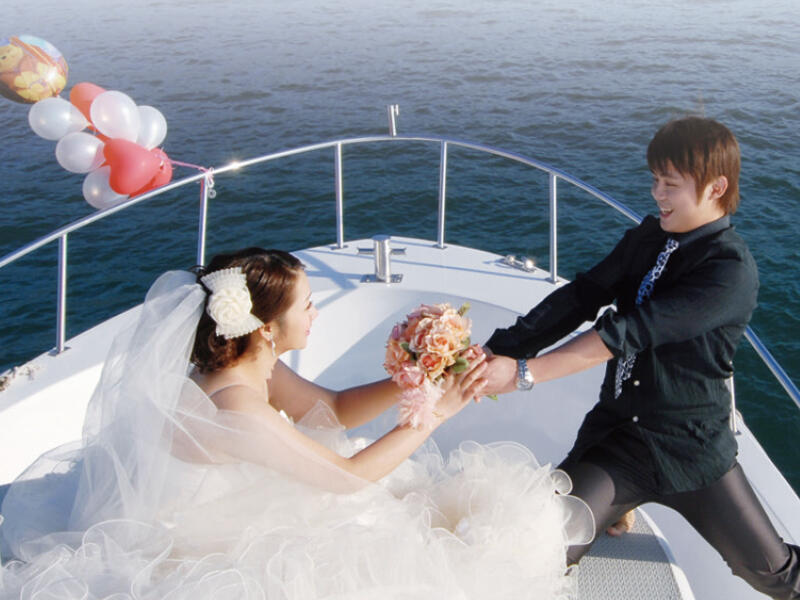 Along the nostalgic railway
Get on the train and immerse yourself in the scenery of the rice fields and green trees.
Boarding the Jiji line train at Ershui in Changhua, it passes Jiji and Zhuoshui before arriving at Checheng. This railway has satisfied demands at different times. It was used to transport the facilities of the hydropower plants. Jiji station used to be the main area producing sucrose and camphor tablets. Due to the increasing popularity of bicycle activities, the Jiji town-sightseeing bikeway has connected Jiji Rail Station, Green Tunnel, Endemic Species Research Institute, Wuchang Palace, Ming Hsing Academy, and Muzih Kiln together so that visitors can take their time to enjoy the local view.
Shuili is another attraction along the railway. Shuili was the center of business during the logging period. The Shuili Snake Kiln details the history of Taiwan's pottery industry and also offers good educational experiences for tourists. The destination of the railway, Checheng, is a very important transfer station for the timber business, and has turned into a nostalgic leisure town. The timber-storing pool, Logging Exhibition Hall, the old dormitory site, and timber experience activities inside the shopping center all offer visitors a great opportunity to indulge in the glory of the flourishing timber business.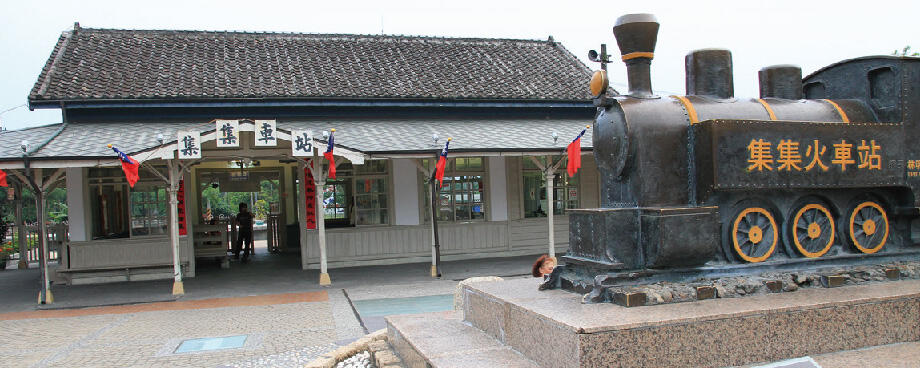 Sightseeing made easy by convenient transportation
---
Slow down your hurried pace and get closer to the Mother Earth to understand the different sides of the amazing Sun Moon Lake.


Cycling Along the Lake on the Road 30km
Visitors can enjoy the view of the lake by cycling along it. You can start from Shuishe and cycle on the lakeside path to the Ita Thao direction. The length of the tour is about 30 kilometers.
Sun Moon Lake Bikeway- Xiangshan 3.4km:This bikeway connects Shuishe and Xiangshan Visitor Center. Along this bikeway, you will pass by the famous 0.4km 'Bikeway above the water' where you will see Shuishe Dam, the Sun Moon Lake water outlet port, and Yongjietongxin(to be of one heart forever) Bridge in between. There is also the Xiangshan Viewing Platform, built with steel, creating a suspension bridge feeling for visitors while walking on it. The hollowed-out design of this platform allows visitors to glance around Sun Moon Lake from above.
Sun Moon Lake Bikeway-Moon Lake 3.4km:Starting from Xiangshan Administration, you go along the southern coast of the Moon Lake and pass Toushe Dam, New Moon Bay, and Huantan Tunnel 1.
Sun Moon Lake Bikeway-Shuishe 3.4km:This trail connects Shuishe and Wenwu Temple with the magnificent scenic lake and mountains along the way.
Toushe Bikeway 0.8km:Starting from Tai 21 Highway, the whole bikeway is rebuilt based on the agricultural road with a short length of 1 kilometer, presenting the local agricultural scenery.
Checheng-Shuili Bikeway:Starting from Checheng Visitor Center, the path goes along Shuili River where you can enjoy the fascinating forest view.
Jiji Around-the-Town Bikeway:This bikeway is divided by the 'Jiji Riverside Line','Jiji Green Tunnel line', and 'Jiji Town-sightseeing line' with a total length of about 20.8 kilometers. It connects Jiji Green Tunnel, Jiji Rail Station, Endemic Species Research Institute, and Ming Hsing Academy together.
Hanbi Trail 1.5km:This trail passes a few historic sites, including Meihe Park, Christian Church, Yule Pavilion, and sentries.
Neihu Mountain Trail 1.5km:This trail is built behind Wenwu Temple with a Chinese fir forest and bamboo forest along the way, creating a nostalgic atmosphere.
Steps of Year at Wenwu Temple 0.2km:Each step represents a birthday of a different celebrity. You can also find your own birthday steps.
Songbolun Hiking Trail 1.2km:An old trail where Thao people used to transport salt; it has rich ecology.
Dazhuhu Trail 0.2km:You can get closer to the Sun Moon Lake water outlet port and enjoy Dazhuhu's sunset.
Shuiwatou Trail 0.5km:The frog pyramid built by the lake serves as an indicator of how much rain the areas has gotten.
Ita Thao Lakeside Trail 0.9km:Starting from Ita Thao Pier, this trail leads to the cable car station and Butterfly Park.
Shuishe Great Mountain Trail 5.6km:Situated at 2,059 meters above the sea level, it takes 8 hours to travel back and forth on this trail.
Tutingzai Hiking Trail 0.6km:This trail is located at the old resident site of the Thao tribe. There is the smallest, but tallest, mini lighthouse by the end of the trail.
Ci'en Pagoda Trail 0.7km:This trail is surrounded by flowers and trees, making it a picturesque area. Visitors can enjoy views of Sun Moon Lake from the top of a hill.
Qinglong Mountain Trail 0.85km:Starting from Xuanguang Temple, visitors are able to arrive at Xuanzhuang Temple after passing the Xuanguang Temple.
Houjian Mountain Trail 0.92km:Situated at 1,006 meters, this trail is on one of the smaller high mountains.
Toushe Reservoir Ecological Hiking Trail 1.6km:This trail runs along the smallest reservoir in the country. The trail connects Toushe reservoir, the Lake-cycling ecological footway, and Shanlongkeng suspension bridge.
Maolan Mountain Trail 3km:Visitors can explore the view of the black tea terrace, willows, and Sun Moon Lake along the way and also go to the top to overlook Chiufener mountain and Jiji mountain.
​​​​​​Discover the Inexhaustible Beauties
---
Xiangshan Administration & Visitors Center
The Xiangshan Administration & Visitors Center officially opened on Feb. 25, 2011, after eight years of construction. This is the new home of the Sun Moon Lake National Scenic Area Administration. This internationally-renowned avant garde building is designed by a Japanese architect, Dan Norihiko. The uniquely-designed building is based on a concept of embracing Sun Moon Lake and blending into the surrounding environment. The slope sods lead visitors to the top and the arc-shaped design creates harmony between the building itself and nature. The design of the roofs of both buildings allows visitors to have enough space to overlook the Sun Moon Lake. The interior design and the surrounding landscape made of waterscape, sods, and exposed concrete create a perfect space between people and nature. There are a number of exhibition halls inside the building. For instance, 'Love at Sun Moon Lake' gathers a variety of featured industries, such as pottery, timber, liquor, black tea, and agricultural products from Puli, Shuili, Jiji, and Sinyi. A gallery combines tourism with culture and holds displays with different themes every season. Sun Moon Gallery introduces Sun Moon Lake's nature, culture, and history. The Multimedia Briefing Room regularly plays 3D and HD Blue-ray discs about Sun Moon Lake every day.
Tel:(+886-49)234-1256/+886-800-855595(For Free)
Address:No. 599, Zhongshan Rd., Yuchi Township, Nantou County 555, Taiwan (R.O.C.)(
Map
)
Attractions Search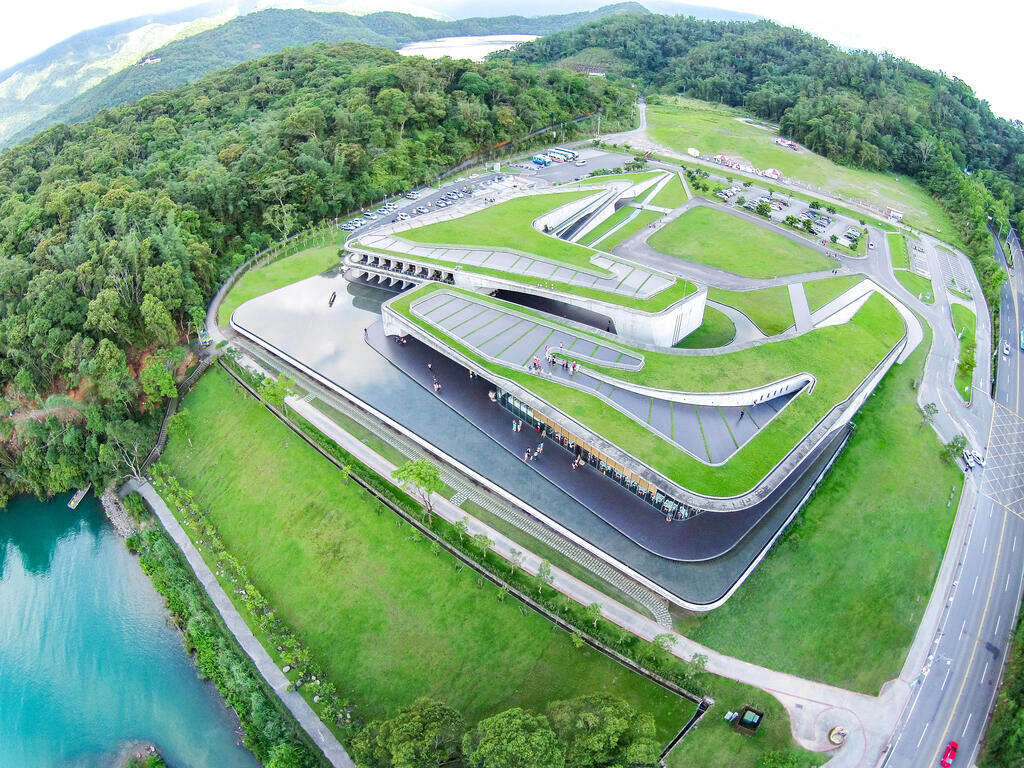 Puli Administration & Visitors Center
Visitors can find Puli Administration & Visitors Center if they exit from Ailan Interchange on National Freeway 6. Tourist information, food, accommodation, and souvenirs are provided here before visitors arrive at Sun Moon Lake or Qingjing Farm.
Tel:(+886-49)291-6060
Address:No. 191, Sec. 4, Zhongshan Rd., Puli Township, Nantou County 545, Taiwan (R.O.C.)(Map)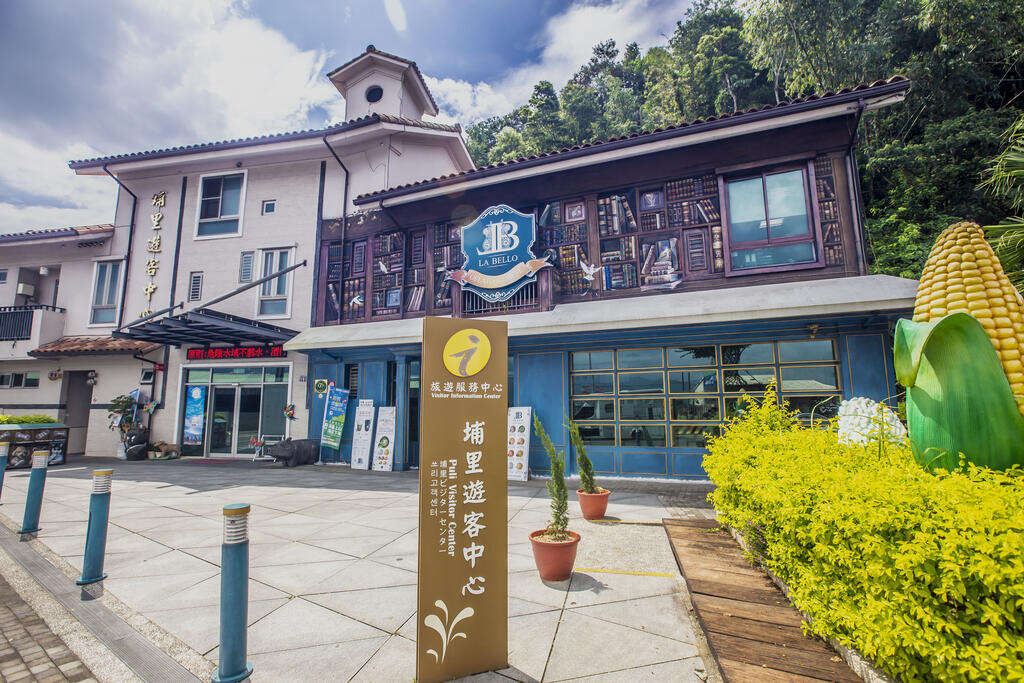 Checheng Administration & Visitors Center
Situated next to Checheng Railway Square, visitors can obtain more in-depth information about the timber industry through publications and the tour guide's explanation at Checheng Visitors Center.
Tel:(+886-49)277-4981
Address:
No. 127, Minquan Ln., Shuili Township, Nantou County 553, Taiwan (R.O.C.)
(Map)


Ita Thao Administration & Visitors Center
Situated next to the Ita Thao Pier, Ita Thao Visitors Center's unique ship-like building provides a ticket-selling center, local cultural arts and crafts souvenir shops and emergency medical center on the first floor. A landscape restaurant, Yihushanshui Tea Shop, located on the second floor, is the ideal place to bathe in the splendid view.
Tel:(+886-49)285-0289
Address:No. 127, Wenhua St., Yuchi Township, Nantou County 555, Taiwan (R.O.C.)(Map)